How To Measure Your Ring Size At Home?
Ring size is as important as the ring itself. A graceful and comfortable fit will enhance the bond to that elegant ring.Hélas will not give up until you are satisfied in all aspects, therefore we offer free resizing to your product. Custom or modified products (special orders that have been designed and/or produced to customer specifications) are not eligible for free resizing.

For further information, you can read our Return Policy by clicking here. Should you need further assistance, please do not hesitate to contact our Customer Service by sending an email to helas@helas-au.com. Our team will assist you gladly!
Find Your Ring Size 
Step1.Cut a thin strip of paper or thread Wrap the paper/thread around your finger  
Step 2.Make the spot where the paper/thread meets
Step 3. Measure the length of the paper/thread with your ruler, then use the following chart to detemine your ring size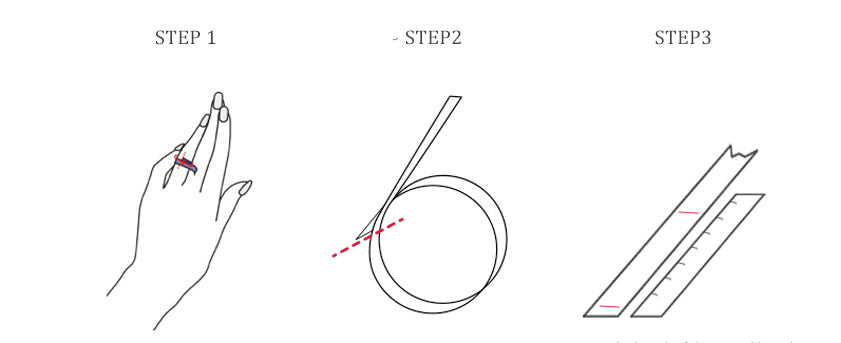 Measurement unit(mm)
| | | | | | | | | | |
| --- | --- | --- | --- | --- | --- | --- | --- | --- | --- |
| Size | #9 | #10 | #11 | #12 | #13 | #14 | #15 | #16 | #17 |
| Ring Diameter | 15.0 | 15.4 | 15.9 | 15.9 | 16.3 | 16.9 | 16.9 | 17.7 | 18.0 |
| Ring's Inside Circumference | 46.8 | 48.3 | 49.9 | 49.9 | 52.4 | 53.0 | 54.3 | 55.6 | 56.5 |